Hidden deep in the south, Pasto for most travelers is just a one night stop-over (or not even that) on their way from Ecuador to Popayan or Cali. Take another look though, because this industrial-colonial town has plenty of natural beauty in the region. And carnaval!
(more pictures of Pasto can be found here)
Pasto is a sleepy city. Not much happening here, except during the Negros y Blancos carnaval in early January. But we are in the high Andes here: that means volcanoes, paramo, and the beautiful Laguna Cocha.
(you can see more pictures of Pasto here)
CONTENTS
General introduction

The capital of the Narino province boasts an incredible 400'000 inhabitants. The valley is sprawling and slowly urbanizing, but the city center itself has a classic colonial architecture.
Nonetheless it's not exactly brimming with economic activity. This area of the country is underdeveloped and it shows on the streets. Especially the streets around the bus terminal are rough.
Tourism potential enough though. The only really safe and professional land border to/from Ecuador is close (the Rumichaca border near Ipiales). Gastronomy is at a decent level. And there is plenty of nature to discover in the region. But making those gems accessible to tourists… is a different story.
Food and drinks

The regional specialty is cuy (guinea pig), which you can try almost everywhere.
If you need a solid meal, La Merced is a good choice. There are several of them in Pasto, they serve breakfast, lunch and dinner. Nothing too creative, but my saviour on a sunday. Beyond that day, I experimented around (Italian, burger) but was never happy enough to recommend it here.
There are plenty of great coffee houses in Pasto. La Catedral is maybe the best, two blocks from the Narino square. That is not only due to the food, but also the location. Their backyard is a haven of peace.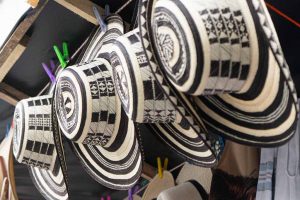 Activities / things to do
center: there are no big museums or huge attractions in Pasto. But it's a pleasant walk around the city center. Plenty of churches, good coffee shops, and two squares (Plaza de Narino, and a couple of blocks south the enormous Plaza de Carnaval)
carnival: Pasto really comes alive for the Negros y Blancos carnival. It's a long tradition, celebrating the diversity of the area and basically saying it doesn't matter if you are black or white. The big days (January 5th and 6th) are wild, as people will smear each other in black or white, depending on the day. In the days before the mayhem already starts though, and there are events in the football stadium. It all ends with a colorful parade. If you visit, be prepared: they are selling cariocas (foam spraycans) everywhere which are your weapon of choice for attack. For defense… use old clothes, and buy protective ski glasses. You will need it… the city streets look a mess afterwards
Laguna La Cocha: officially belongs to the 'parks and nature' section below, but it is so popular it deserves its own mention. Great daytrip. There are collectivos driving from the east side of the Hospital Universitario at the junction of Calle 21a and Carrera 7. It's a 30-45 minute drive, through the El Encano village, to the laguna. It's a little bit like Venice, with houses and restaurants built on wooden poles around the creek. The Laguna itself is a giant lake, with a small island (La Corota). You can take one of the many boats there to make a nice walk around the protected cloud forest, but be sure to wait until a boat partially fills up so you can share the costs. End your visit with eating fresh trout in one of the many restaurants
parks and nature:

Laguna Verde is an amazing green-colored volcanic lake near the Azufral volcano. It is a great but slightly complicated daytrip from Pasto, as it involves an early rise and some local buses etc. There is a foundation that takes care of the laguna, they also offer local accommodation if you want to stay there. Please be aware that the laguna is apparently closed between 2019-2024 (checked in December 2021 and it was still closed)
Paramo Bordoncillo: paramo is Andean highland and there is lots of it around Pasto. Bordoncillo is a great destination, unfortunately almost impossible to navigate to. I started close to La Cocha / El Encano and got halfway, but the road beyond was unclear. Ask at the tourism office in Pasto whether they have proper maps…
Paramo de Tacines / del Fraile: didn't do this one myself, but it ought to be easier as it is close to a village that is not too far from Pasto. You can even take a local bus (route C16) to the village of Cabrera. Then check this KML file to find your way to this wonderful paramo area
Galeras: a volcano and paramo, what a combination. This is a nature reserve west of the city. It's also a very active volcano, that's the reason why most parts of the natural reserve are closed. One part is open but apparently you need to pre-register to get in… again: ask the tourism office

Pasto is bigger and better equipped than Ipiales, therefore a better place to stay. A good reason to stay/visit Ipiales though is the Las Lajas church, an almost fairytale-like building. Good daytrip from Pasto
Getting to Pasto and getting around
the airport is a thirty minute drive away from the city. Landing here is amazing: the narrow and short runway is located on the top of a canyon. You can't land here when there are crosswinds, which happens frequently in August. That's why authorities are looking for a better location, also because tourism is increasing. You can get to the city by a shared taxi (a normal taxi, shared by three persons)
bus: as said, Pasto is on the Ipiales-Pasto-Popayan-Cali axis. There are many long-distance buses serving this route. Ipiales is 90-120 minutes away, from there you can take a shared taxi to/from the Ecuador border. There are also smaller buses serving just the Pasto-Popayan or Pasto-Cali stretch. The drive to Popayan is absolutely breathtaking. The Pasto bus terminal is 2km south of the city center. The area is a bit dodgy, especially at night it's better to grab a cab
within the city: despite the size, you can easily walk almost anywhere in the city. There is no need to visit the ever-expanding edges of it anyway
Miscellaneous
Weather: average daytime temperatures are around 17 degrees all year, and in the night around 10 degrees. But from day to day these can fluctuate (it almost never freezes, and on good sunny days you might get 25 degrees). Just don't forget you are at 2'500 metres here
Safety: you will see a lot of poverty on the streets. Be aware of pickpockets and robbers, don't flash your valuables. It is safe in general, but I was more cautious here than in some other mid-sized cities
there is also this article with an overview of things to do in and around Pasto